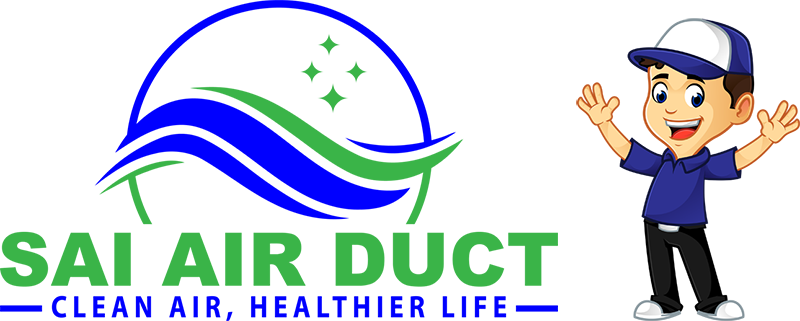 Air Duct Cleaning
Are you tired of dealing with dirty or dusty air, dry air, pollen, molds, or bad odors in your living space or commercial complex? Contact Sai Air Duct for comprehensive air duct cleaning services. We guarantee your absolute satisfaction with our top-notch duct cleaning equipment and unparalleled expertise. Call Sai Air Duct at 224-256-0071 to schedule an appointment.
Did you know that dirty ducts could do more than just reducing the efficiency of equipment and increase energy costs? Dirty ducts also leave the air you breathe contaminated, causing certain health challenges and other respiratory-related allergies. The fact is that contaminants build up over time in the air duct of buildings, and there is a need for routine air duct cleaning.
When Should You Clean Your Air Duct?
As little as a 1" dust build-up inside your air duct can reduce air flow by up to 30%. According to furniture spray makers, an average house collects as much as 40 Pounds of dust in one year. More recently, studies have also shown that residents of buildings with ducts that have not been cleaned for several years have a 60% likelihood of developing respiratory problems.
While there is no known formula to determine the exact time when your building air duct should be cleaned, the National Air Duct Cleaners Association (NADCA) recommends that air ducts should be cleaned every three to five years. According to the association, cleaning your air ducts every three to five years reduces the risk of pollutants and allergens in the home, as well as prevents inefficient cooling.
However, you know it is time to have your air duct cleaned when you notice any of the following:
Mold growth in the air duct, furnace, or air conditioning system

Energy bills much higher than expected

Visible dust no matter how often you clean the house

Worsening allergic conditions in the house
Whether you have just moved into a new apartment or have never considered cleaning your air ducts for several years, no matter the size of your living space or the condition of the ducts, Sai Air Duct offers professional air duct cleaning services to help homeowners breathe safe, clean, and fresh air. We also clean the air ducts of commercial spaces to give your employees and clients a comfortable ambiance.
Benefits of Cleaning Your Air Duct
Here are a few reasons why you should clean your air duct:
DUCT CLEANING PROFESSIONALS THAT YOU CAN TRUST
When it comes to air duct cleaning, we stand out. You can trust us to get it done perfectly. With our truck-mounted vacuum unit and other sophisticated scooping tools, we can clean your entire duct and ventilation system to the teeth, leaving no dirt pile up behind. We also offer a free in-home estimate and customer support service to guarantee the efficiency of our services. Call Sai Air Duct at 224-256-0071 to schedule an appointment.