Sai Air Duct Clean
Superior Duct Treatments for a

Healthier Indoor Environment
Welcome to Sai Air Duct Clean, your one-stop-shop for comprehensive duct treatments and sanitization services. We understand the importance of clean air ducts in maintaining a healthy and safe indoor environment. Our team of skilled professionals employs advanced technology to provide top-notch air duct cleaning, treatments, and sanitizing solutions for residential and commercial properties across Cook County, Lake County, DuPage County, McHenry County, and surrounding suburbs. Choose Sai Air Duct Clean to protect your indoor air quality and promote a healthier living space. Call us today at 224-271-9295 to schedule an appointment.
The Importance of

Air Duct Treatments
Air ducts can harbor a multitude of pollutants, including bacteria, mold, mildew, and other allergens. These contaminants can negatively impact the health of those with weakened immune systems, respiratory issues, or sensitivities to bacteria. Regular air duct treatments and sanitization are essential to prevent the spread of these pollutants, ensuring a safe and comfortable indoor environment for your home or business.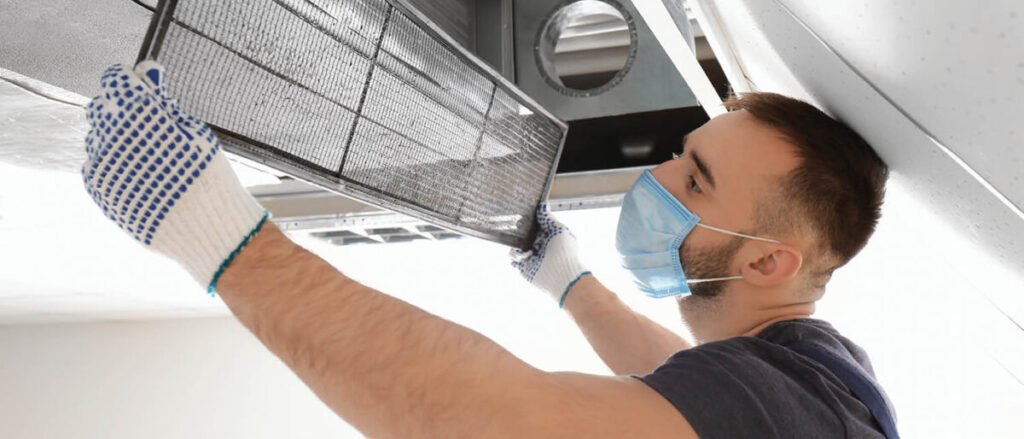 Comprehensive

Air Duct Cleaning and Treatment

Services
At Sai Air Duct Clean, we provide an all-inclusive range of air duct cleaning and treatment services tailored to your specific needs. Our experts are equipped with the knowledge and technology to9
Thoroughly clean your air duct system.

Apply top-quality antimicrobial solutions to your ducts.

Eliminate odor-causing microorganisms and other contaminants.

Protect the health of your family, employees, and customers.
EnviroCon

Anti-Microbial Deodorizer

Our Trusted Solution
We proudly use EnviroCon, an EPA-registered Bacteriostat, Fungistat, and Deodorizer, specifically designed for use in HVAC systems. EnviroCon is highly effective in
Eliminating odor-causing microorganisms.

Tackling issues associated with mold, mildew, and bacterial growth.
EnviroCon boasts a low toxicity rating, which means it can be used in occupied spaces without posing a risk to human health. Additionally, it does not contain any environmentally damaging propellants or flammable ingredients, making it a safe and environmentally-friendly choice for duct treatments.
Note: We advise against the use of EnviroCon if you or any occupants of the building have a history of sensitivity to chemical treatments
Sai Air Duct Clean
Your Trusted Provider for

Air Duct Treatments
When you choose Sai Air Duct Clean, you're choosing a service provider that prioritizes your health and well-being. We're committed to delivering exceptional air duct treatments that make a real difference to your indoor air quality. Our focus is on offering a service that is both efficient and effective, ensuring your complete satisfaction. We are
FAQs
Frequently Asked

Questions