Algonquin, IL Air Duct Cleaning
Sai Air Duct
Algonquin, IL Air Duct Cleaning Services

by Sai Air Duct Cleaning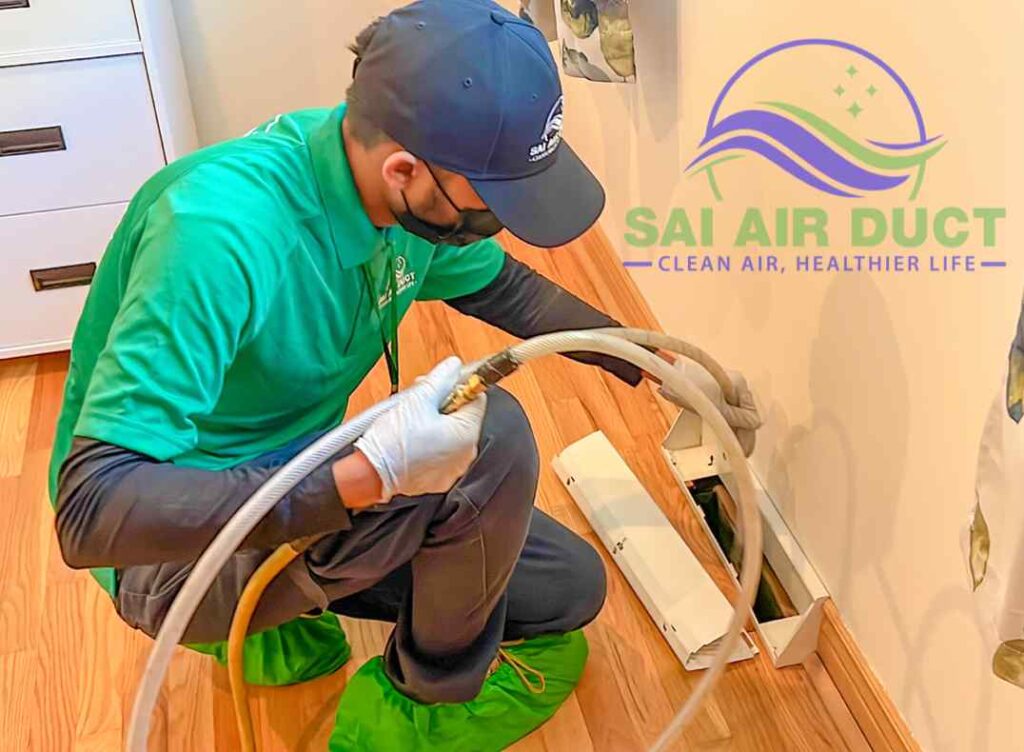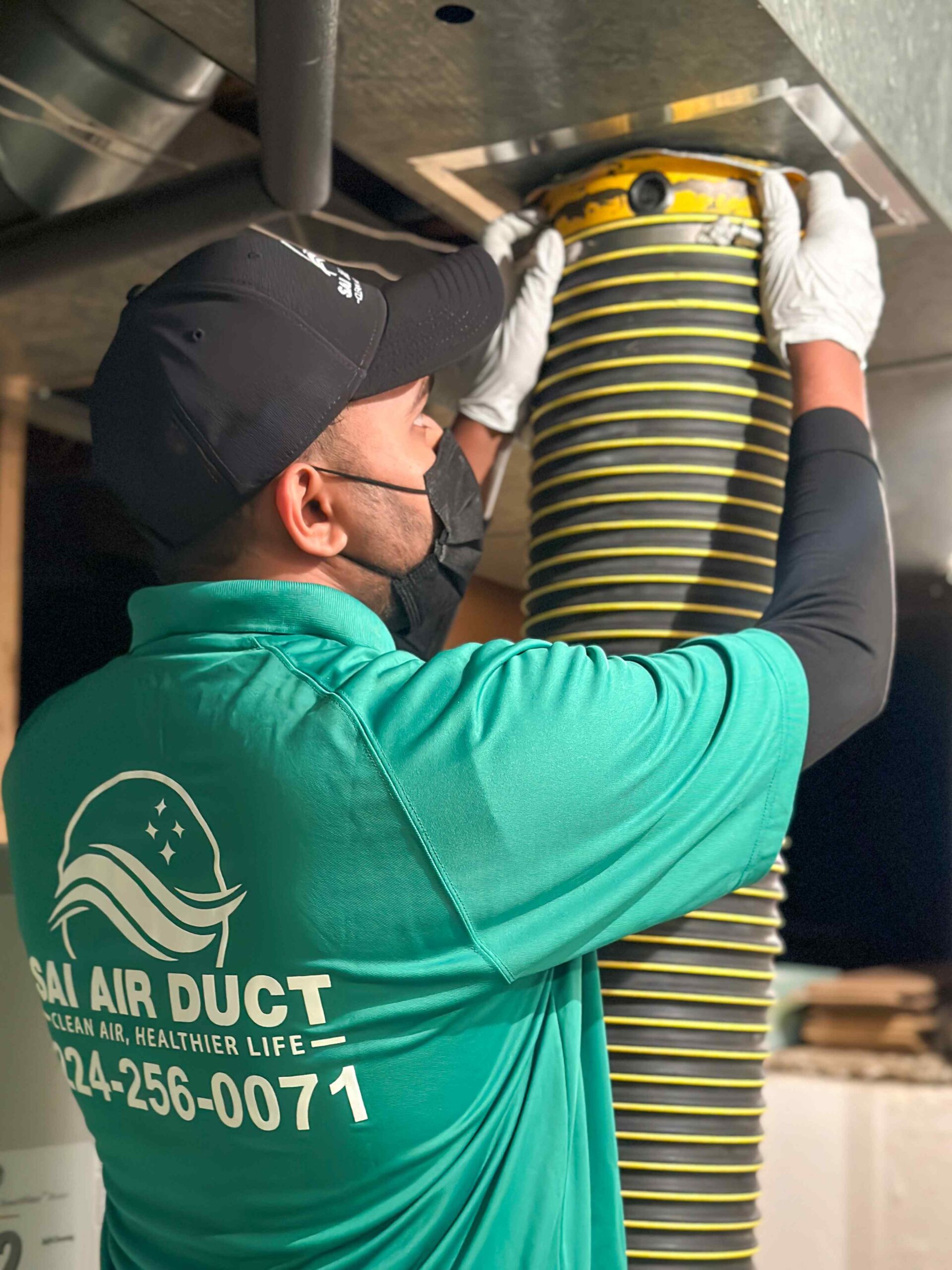 Sai Air Duct
Why Choose Sai Air Duct Cleaning in Algonquin, IL
Sai Air Duct Cleaning prides itself on the exceptional service we provide to the residents and businesses of Algonquin, IL. Our dedicated and skilled professionals use state-of-the-art equipment and proven strategies to ensure thorough air duct cleaning that significantly improves indoor air quality.
Our technicians undergo extensive training to provide an unmatched level of service. Our extensive knowledge and experience in air duct cleaning assure you that your ducts will be cleaner, function better, and promote healthier air in your home or business.
At Sai Air Duct Cleaning, our customers are at the heart of everything we do. We strive to exceed your expectations by providing personalized service, competitive pricing, and a cleaner, healthier indoor environment.
We believe in honesty and transparency. That's why we provide upfront pricing with no hidden charges. We provide excellent service at competitive rates, ensuring you get the best value for your money.
Sai Air Duct
Our Air Duct Cleaning

Process
Our comprehensive air duct cleaning process is designed to provide maximum results.
Benefits of Our Air Duct Cleaning Service in Algonquin, IL
Getting your air ducts cleaned by Sai Air Duct Cleaning offers numerous benefits.
Our services help reduce the presence of allergens, bacteria, and other pollutants in your indoor air, improving the overall air quality and making your home or business a healthier place to live or work.
Increased HVAC Efficiency
By removing the buildup of dust and debris in your air ducts, we enhance the efficiency of your HVAC system, potentially saving you energy costs in the long run.
A clean HVAC system operates more smoothly and is less likely to break down, extending its lifespan and saving you from costly repairs or replacements.
Sai Air Duct
Experience the Sai Air Duct Cleaning Difference
SaiAir Duct Cleaning in Algonquin, IL, offers you more than just a service - we offer you peace of mind. Our reliable, efficient, and professional air duct cleaning services assure you a cleaner, healthier living or working environment. Experience the difference for yourself; contact Sai Air Duct Cleaning today.
Sai Air Duct
Our Commitment to the

Algonquin, IL Community
At Sai Air Duct Cleaning, we don't just work in the Algonquin, IL, community - we're part of it. We understand the unique needs of our clients in this region and tailor our services to meet these requirements. We are committed to providing our clients a healthy living and working environment.
Quality is not just a buzzword at Sai Air Duct Cleaning; it's a promise we uphold with each service we provide. We promise to deliver top-tier air duct cleaning services that meet industry standards and exceed your expectations.
Our Dedication to Customer Satisfaction
Your satisfaction is our ultimate goal. That's why we always strive to provide excellent customer service, from the initial consultation to the air duct cleaning process completion.
Sai Air Duct offers professional air duct cleaning in Addison, IL!
Were you aware that without regular air duct cleaning, the air in your home or business will build up contaminants that make it less safe to breathe? Things like dust, dirt, pet hair, allergens, and more build up in your air when your air duct stays dirty, and these things over time can lead to higher rates of illness and poorer overall health. The air filter can only do so much if the air duct afterward has standing dust or mold that continues to contaminate the air that has already passed through the filter. Let the professionals at Sai Air Duct give you clean air for a healthier life! We offer both commercial air duct cleaning and residential air duct cleaning throughout Addison, IL.
Why should you get your air ducts cleaned Addison, IL?
Ignoring your air ducts and letting dust build up will be detrimental to your health, and it will hurt your energy bill, too. Did you know that the average house collects up to 40 pounds of dust every year? And with only a 1" buildup of dust in your air vents, your airflow is reduced by 30%. That makes your air conditioning system work much harder and means you'll be paying much more. But the cost isn't just in dollars. Dirty air ducts seriously affect your health, too. If you haven't had your air ducts cleaned for several years, then you could have as high as a 60% likelihood of developing a respiratory issue. To keep your home and business safe and efficient, let Sai Air Duct clean your air ducts Addison, IL.
When should you have your air ducts cleaned Addison, IL?
While you need to have regular cleanings of your commercial and residential air ducts Addison, IL, this doesn't mean every month. In fact, the National Air Duct Cleaners Association (NADCA) recommends cleaning air ducts every three to five years to keep your business's air safe and your home's air safe. Not only will it keep you, your family, and your employees safe, but it will save noticeable amounts on your energy bill with the increased efficiency that clean air ducts will bring. Increased efficiency isn't just going to save you on monthly energy bills. With cleaner air ducts creating a more efficient air conditioning system, your HVAC system will last longer. This means less money spent on repairs and a longer useful life that will get you more bang for your buck.
Trustworthy air duct cleaning Addison, IL from the experts at Sai Air Duct
With our years of experience and our state-of-the-art equipment, there is no air duct out there that we can't clean to perfection. We have a truck-mounted vacuum unit with all of the power needed to clean an air duct effectively, and we use sophisticated scoping tools to make sure that we don't leave a speck of dust behind. The result of our work is your home or business having clean, fresh air from your HVAC system, keeping you healthier and leaving you with a lighter energy bill each month. To learn more about our air duct cleaning process, to get a quote, or schedule an appointment for commercial air duct cleaning or residential air duct cleaning Addison, IL, give us a call today at
(224) 256-0071
!
Book Your Air Duct Cleaning Today
Don't let dirty air ducts affect indoor air quality and overall health. Contact Sai Air Duct Cleaning today to book your air duct cleaning service in Algonquin, IL. With us, you can expect nothing short of excellence. Let us help you breathe easy.
Get in Touch with Sai Air Duct Cleaning Today
Contact us today for efficient and reliable air duct cleaning services in Algonquin, IL. Our team is ready to answer any queries and provide a service tailored to your needs. Make the right choice for your property's indoor air quality; choose Sai Air Duct Cleaning.
Your Healthy Home or Business Starts with Sai Air Duct Cleaning
Begin your journey towards a healthier home or business environment with Sai Air Duct Cleaning. Our expert air duct cleaning services in Algonquin, IL, ensure clean, fresh, and healthy indoor air. Let us help you create a better living or working environment. Contact us today to schedule your air duct cleaning service.
Sai Air Duct
Frequently

Asked

Questions (FAQ)